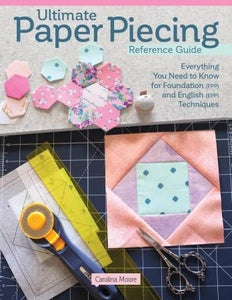 Carolina Moore
Ultimate Paper Piecing Reference Guide by Carolina Moore
Regular price
$12.99
$0.00
Unit price
per
When it comes to using paper in your quilt designs, there are two techniques you can use – English paper piecing (EPP), or foundation paper piecing (FPP). Normally, quilters are devoted to a particular paper piecing camp, but for those on the fence or anyone interested in trying and mastering both, Ultimate Paper Piecing Reference Guide is an absolute must-have quilting resource!
A hardworking guide to both types of piecing, this quilt book covers it all and provides the tools and techniques, along with both simple and intricate block designs, for both EPP and FPP. With detailed step-by-step instructions, tips, and tricks, this is the reference guide you'll continue to turn to as you learn and refresh your paper piecing skillset!
Author Carolina Moore is an award-winning quilter, pattern designer, author, and brand ambassador. Known for her popular blog, Always Expect Moore, and YouTube channel, she is also a quilting innovator who invented the Spot on Dot and the Boxed Bag Template.

---
Share this Product