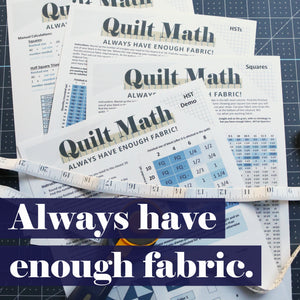 Carolina Moore
Quilt Math Sheets - Squares and HSTs - Digital Download
Regular price
$12.00
$12.00
Unit price
per
The full set of Quilt Math Pages! No math needed to use these simple sheets for calculating yardage for squares and half square triangles. Plus a bonus sheet so you can do the math yourself - but you'll never need it!. This is a digital download, so you'll have access to your files immediately.
Each sheet includes measurements for blocks up to 12" finished, in half-inch increments. Calculate yardage for up to 200 units. Simple to understand color-blocked charts makes it easy!
No worrying about calculations!
We've taken care of all the math for you! Use our simple to read charts to quickly see how much yardage you need to get your desired size and number of squares and half square triangles. Plus, we've got you covered with a sheet that takes you step-by-step through the math if you like that sort of thing. But you won't need it.
Made by a Quilter, for Quilters.
A pattern designer, pattern editor, quilt teacher, and quilter of over 25 years, Carolina Moore designed QuiltMath to be simple for even a beginner to use. If you use paper and pencil to sketch out your quilts, you can now see at a glance how much yardage you'll need to stitch your design. This prevents you from running out of fabric when cutting your pieces! You can also make simple size adjustments to your quilt to make sure you have enough fabric in your stash to complete your design.
---
Share this Product